For many of our dual language learners the classroom is the focal point of their English/Spanish exposure. It is the base of where, when, why and how they speak English or Spanish. That's why the physical appearance of the classroom in itself is so important.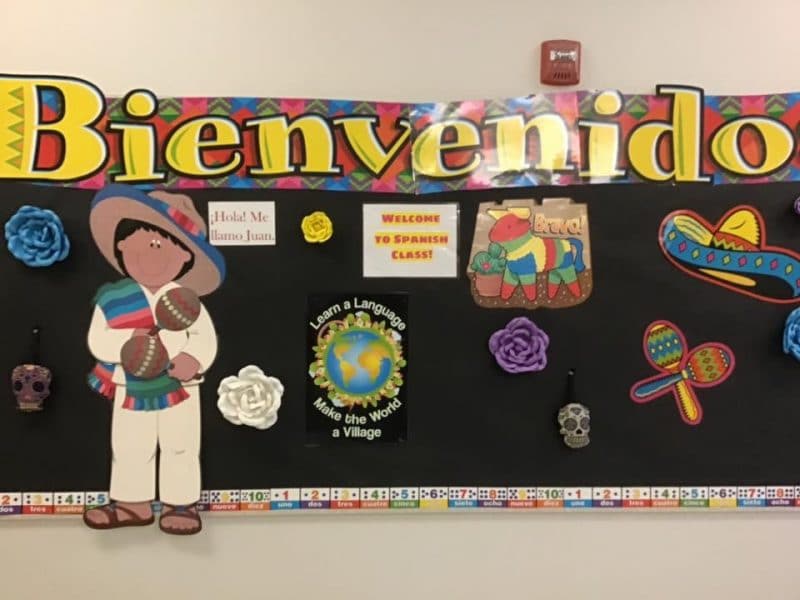 We recommend teachers to try to give the impression to little ones that they are making a visit abroad each time they enter the classroom. Not only is their visit there a chance to listen to and speak the target language, it should also be an exciting cultural dip into a foreign setting and international atmosphere.
How can we do that?
We suggest using plenty of good visual materials to help create an environment which contributes to children feeling like they "have been somewhere else" and they look forward to coming back next time. A great experience!
Following are a few of our suggestions:
Use posters to not only decorate the rooms but also as teacher's tools for warm-ups, teaching new concepts, reference and review.
Post songs, fingerplays and rhymes charts to follow when singing.
Use colors, numbers, calendar and shapes charts as great physical warm-up boosters; you can ask students to stand up and touch something in the room which is the same color that the teacher is pointing to on the color poster or you may complete a daily routine with your calendar chart.
ABC, Consonant and Vowel Charts teach alphabetizing, initial letter sounds, vocabulary expansion, and help teachers reinforce phonics.
A Body Chart may be a good follow-up after singing "Head & Shoulders."
Opposites Posters are often children's first exposure to adjectives;
Animal Posters (both farm and zoo) help young children learn the names and main characteristics of all their favorite animals.
Country flags, maps, typical costumes and souvenirs.
Lots of realia and manipulatives to help children understand and build up their vocabulary.
Bulletin board filled with pictures of children in the classroom with their teacher and peers carrying out different activities.
Pictures of little ones with their families from their trips abroad.
Rotate your displays every few months. In this way, children feel the atmosphere is fresh, and they also get to learn or review basic concepts on a constant basis. In addition, the parents, waiting for their children in the lobby, get to see English from any position in the language center. And for them seeing is believing.
We firmly believe good visual materials help create an inviting atmopshere which contributes to a great language experience.