Happy Valentine's Day!!!
The month of February is often known as the month of love. Love to our family, love to our friends, love to our planet and love to all the things we have and all the things we do.
Celebrating our love to our families and the strong and wonderful bonds we create and share with our precious little ones lays a lifelong foundation for growing and having success in life.
As your children grow there are many wonderful activities that help you stretch bonds with them.
For Valentine's Day we have put together some activities you can do with your little ones to celebrate the love you both feel for each other.
A Sweet and Lovely Song
Skinnamarinky and in Spanish A la Bim Bam Bum is one of our favorite songs. It is a sweet song that can be performed for Valentine's Day, Mother's Day, Father's Day or Grandparents' Day.
If you are singing the song to your baby you can follow the exercises as in the video that follows. For toddlers and older children you can stand in front of your children and teach them some gestures to go with the song. Following is the lyrics with the gestures they can do as they sing along.
Put your right elbow in your left hand and wiggle your fingers
SINNAMARINKY-DINKY-DINK
A LA BIM BAM BUM
A LA BIM BAM BUM
A LA BIM BAM BUM BIM BIM
Switch arms and do the same on the opposite side
SINNAMARINKY -DOO
Point at yourself
I
TE
Cross your arms over your heart
LOVE
QUIE-
Point at your partner
YOU
RO
Move your arms above your head to form a circle, as if you were drawing a sun.
I LOVEYOU IN THE MORNING
TE QUIERO EN LA MAÑANAS
Move your circle in front of your chest.
AND IN THE AFTERNOON
TE QUIERO POR LAS TARDES
Place the circle in front of your legs as symbolizing the sun going down.
I LOVE YOU IN THE EVENING
TE QUIERO POR LA NOCHES
Open your arms and bring them down to your sides moving your hands side to side.
AND UNDERNEATH THE MOON
TE QUIERO MUCHO MÁS
Reading books about love and friendships
Snuggling up with your child can create such a wonderful bonding experience!
Suggestions from our Languages4kidz Team for Valentine's Day are these Bilingual Books:
Peek-a-Boo, I love you! – !Cucú, te quiero!
We are good friends – Somos buenos amigos
Beary makes new friends – Osi hace nuevos amigos
Adventures with my friend – Aventuras con mi amigo
Valentine's Day Arts and Crafts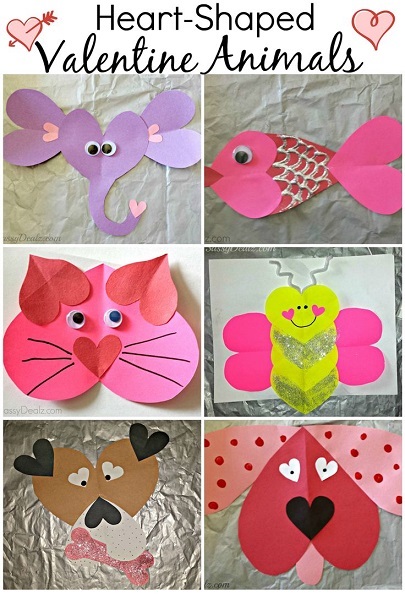 Children love arts and crafts. Why not make some animals with hearts in different sizes and colors? Here is a great idea from Crafty Morning that children will love.
A Valentine's Day Sandwich
While searching the internet I found a great cooking activity that I would love to share with you!
Monti Kids video on how to create a heart-shaped sandwich is an incredible activity to foster following multiple steps and giving your children a sense of belonging as they create something to share with someone they love.
Have a Lovely Valentine's Day!!!